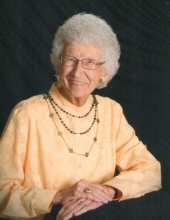 Obituary for Mignon Randall
Mignon (Aamot) Randall passed away June 26, 2017, at PioneerCare Suites in Fergus Falls at the age of 91, one day shy of her 92nd birthday.

She was born on June 27, 1925, to Omer and Minnie (Brown) Aamot at their home in Wendell, Minnesota. She was what you would call and "Original," born here and never left.

She attended grade school in Wendell and in the fall of 1939 enrolled in the West Central School of Agriculture (WCSA) in Morris. She attended there for five years, taking a business course the last year. While there she was involved in music and home economics. She loved to sew and bake in 4-H, and that continued on at WCSA. The friendships made at WCSA have lasted a lifetime. After graduation in 1944, she went to work for her Dad at Aamot Implement.

In the fall of 1946, Roy Randall came to Wendell and, with the help of Nels Olsen, he met the girl who worked across the street at Aamot Implement. They were married on October 24, 1948, and after seven years of marriage, they adopted Robert in 1955; in 1957, they adopted Lori. What a joy and blessing they were to Mignon and Roy.

Roy started working at Aamot Implement in 1947 and went into partnership with Mignon's two brothers, Odell and Hanley Aamot, in the 1960's. They all worked together until they decided to retire in 1995. Those who worked with her and their customers became like family to Mignon.

Robert and his wife Connie blessed Mignon with four grandchildren of whom she was so very proud - they meant the world to her. One of the things they will remember Grandma for are her dill pickles and apple pies. She had a special place in her heart for kids and pets, and most of you will remember that Mignon was a "hugger."

Trinity Lutheran Church was very special to Mignon. A very active member, she was the church organist for 23 years, active in Sunday school, the Ladies Aid, quilting, serving on the Altar Committee and the Evangelism Committee. A life member at Trinity, Mignon was baptized, confirmed and married there. One can tell how special Wendell was to Mignon, having been born there and lived there all of her life. Being chosen as the Grand Marshalls for the Wendell 125th celebration in July 2012 was such an honor and humbling experience for her and Roy.

Mignon was a member of the Homemaker's Club and has been an active member of the American Legion Auxiliary Unit 426 of Wendell since 1946 and served as the Unit Treasurer for many of those years. She joined the Wendell Lions Club in 1999.

Mignon was preceded in death by her daughter Lori, her parents Omer and Minnie, her brothers Odell and Hanley, several aunts, uncles and cousins, and many friends.

Grandma, Mother, and Friend to all, Mignon is survived by her husband and best friend Roy; son Robert (Connie) Randall and four grandchildren, Lucas (Heidi), Stefanie, Tanner (Hayley) and Nicole Randall, all from Wichita, Kansas; and many nieces and nephews who were just like her own.

Memorials are preferred to the Trinity Lutheran Cemetery or Lions for Sight.

Visitation: 5 - 8 PM Friday, June 30, 2017 at Erickson-Smith Funeral Home, Elbow Lake

Funeral Service: 2PM Saturday, July 1, 2017 at Trinity Lutheran Church, Wendell

Clergy: Reverend David Strom

Interment: Trinity Lutheran Cemetery

Arrangements are with the Erickson-Smith Funeral Home in Elbow Lake.



Mignon 's Memorial Folder
Funeral Home:
Erickson-Smith Funeral Home - Elbow Lake
116 1st Street NE
Elbow Lake, MN
US 56531
Previous Events
Visitation
Erickson-Smith Funeral Home - Elbow Lake
116 1st Street NE
Elbow Lake, MN 56531
Visitation will resume one hour prior to the service at the church
Service
Trinity Lutheran Church
Wendell, MN 56531
cemetery
Trinity Lutheran Cemetery
Wendell, MN